How to be Resilient in Your Career: Facing Up to Barriers at Work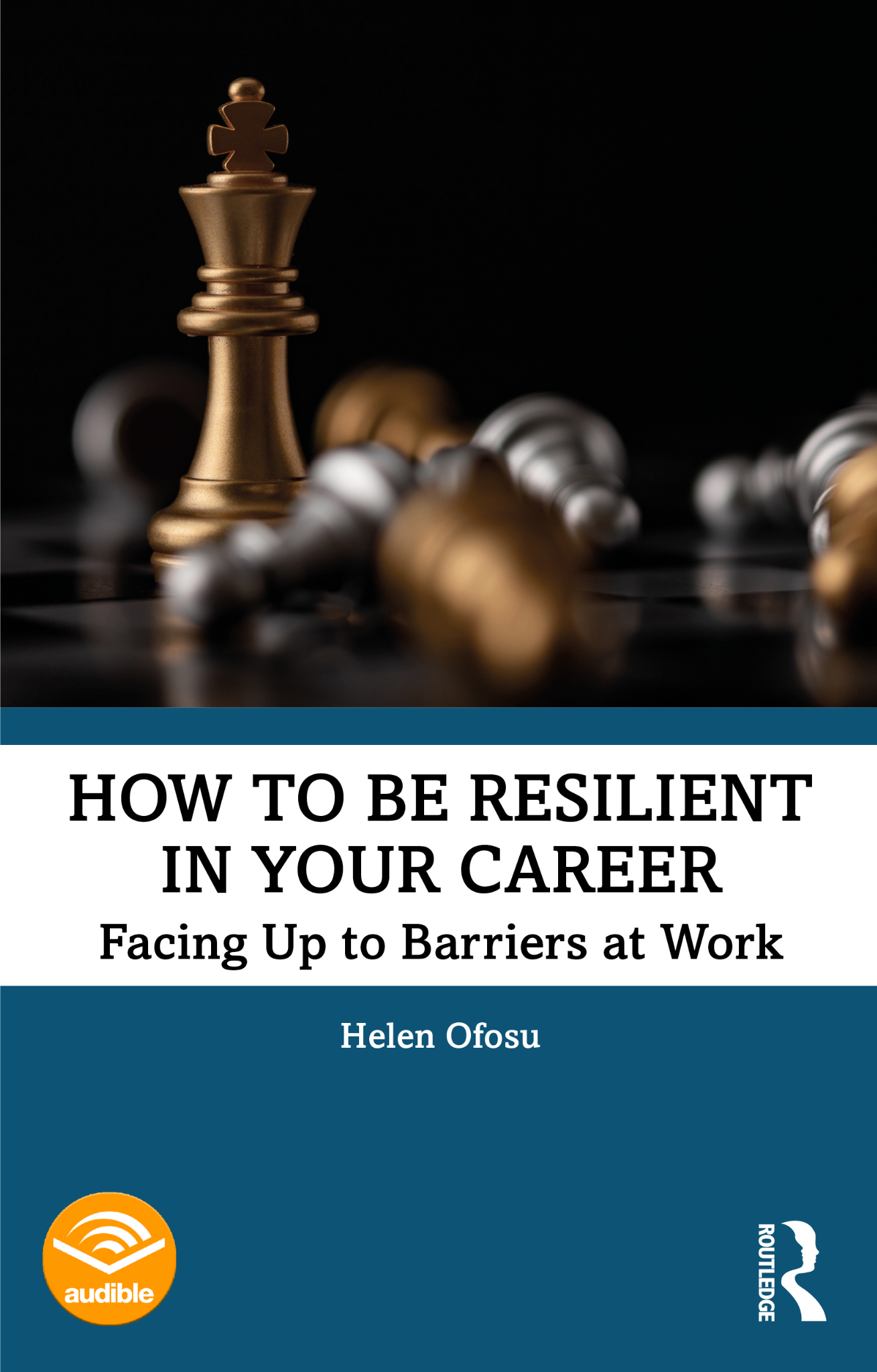 Buy The Book
Title: How to be Resilient in Your Career: Facing Up to Barriers at Work
Publisher: Routledge
Release Date: February 23, 2023
Pages: 224
ISBN-10: 1032358521
ISBN-13: 978-1032358529
In bestselling How to be Resilient in Your Career: Facing Up to Barriers at Work, award-winning I/O Psychologist and career advisor Dr. Helen Ofosu shares vital career advice to help professionals navigate common "internally disruptive" career experiences such as harassment, imposter syndrome, bullying, being part of an underrepresented group, toxic workplaces, and discrimination, and more.
Dr. Ofosu draws on over twenty years of helping employers acquire talent and coaching professionals through difficult career situations to unpack these layered and complicated issues in an easy-to-follow way.
With considerable HR experience, at times she offers coveted insights from the employer's point of view. For job seekers, early career professionals, and established high-earners who have already tried other options to resolve their complicated career issues, How to be Resilient in Your Career: Facing up to Barriers at Work arrives as an essential guide that equips readers with a knowledge base to make informed decisions around building and sustaining a successful and resilient career.
Each chapter tackles a common career barrier or setback that Dr. Ofosu has helped countless clients overcome. View the Table of Contents here.
For example, the chapter on Navigating Professional Boundaries starts with an acknowledgment that for some occupations (e.g., teachers, lawyers, social workers, and physicians), it is easier to recognize and maintain boundaries because there are clear guidelines that govern those fields. For everyone else, boundaries don't get as much attention – but the lack of healthy boundaries can create a lot of problems. This is especially true now that so many people work remotely, or they work in hybrid arrangements. In this chapter, she shares practical tips so that employees can use them to establish boundaries linked to how they use their time and interact with others.
"Dr. Ofosu explores important yet overlooked career issues and addresses 'the elephant in the boardroom' highlighting the challenges that racialized communities face in their careers. She provides thoughtful and practical information to help people avoid or bounce back from careerrelated adversity."
Dr. Janet Mantler
Associate Professor, Organizational Psychology, Carleton University, Ottawa, Canada
"Dr. Ofosu integrates knowledge from years of study, professional thriving and lived experience into her work. The relevance of her book cannot be timelier. She brings heart, brains, and guts to her book and makes me proud of my profession."
Dr. Tatijana Busic
PH.D., C.Psych.,Clinical and organizational psychologist
"This is a valuable resource for employees working in organizations where problematic and traumatizing behaviours are rampant. Clinicians who help clients cope with these situations and their fallout will also appreciate this book."
Kafui Sawyer
Registered Psychotherapist, Trauma Consultant, Founder and Executive Director of Joy Health and Research Centre
"This is the book we've been waiting for! Dr. Ofosu has a deeper understanding and wider breadth than most of her peers. She unfurls sensitive and complex issues, integrating them into a digestible and progressive manner to guide employers and employees."
Esther Schvan
M.A., Career Development and Transition Coach
"As a former executive, I see tremendous value in this book if/when employees hit rough patches at work. This will also be a great toolkit for leaders and HR professionals who aspire to be more modern and inclusive."
Tina Walter
M.A., Diversity, Equity, and Inclusion Consultant